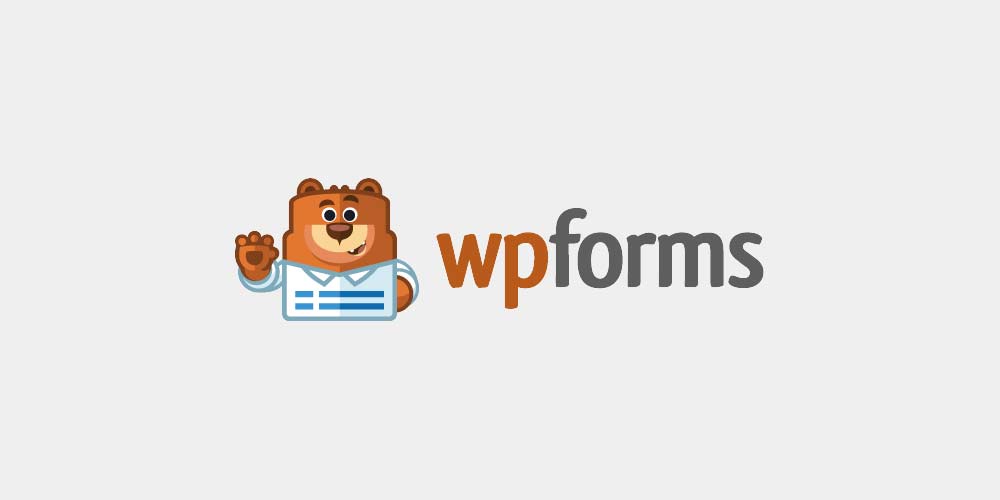 The Contact page is a primary component of every website. In fact, it's one of the first few pages you'll create for a new site. Sure, you can add your contact information to your homepage or insert those details in the footer of your website, but nothing beats a classic Contact page filled with those very same details, a quick blurb on how communication works on your site and maybe even a quick list of FAQs.
One other element you'll definitely find on almost every Contact page you come across is a contact form. You can technically list your email address on your Contact page and ask visitors to email you directly, which some do prefer, but it's much easier for most folks to fill out a simple form. They're especially useful for freelancers and companies who offer quotes and consultations prior to providing services.
There are about a dozen ways and more of going about implementing a contact form on a WordPress site, but we're going to take a look at a single solution in this post. That solution is WPForms, one of the most popular contact form plugins available for WordPress. We're going to review its features, setup process, use, pricing and support in this article. Let's get into it.
About WPForms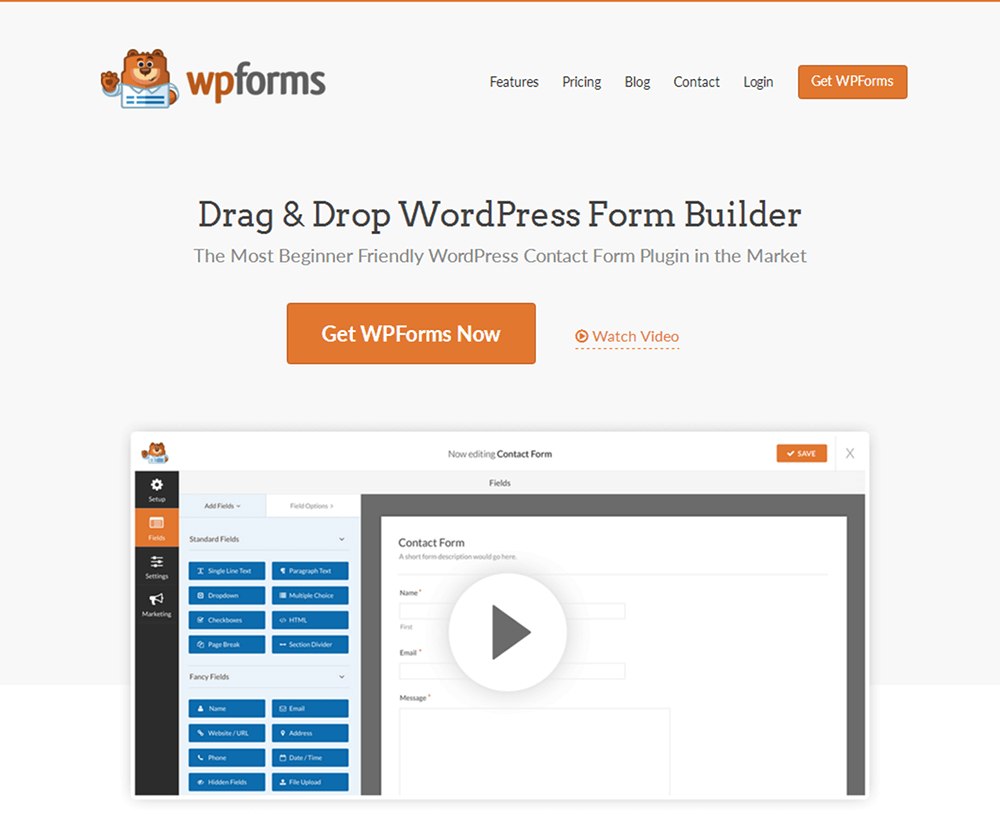 WPForms is an intuitive drag-and-drop contact form plugin that comes in free and premium versions. It was founded in early 2016 and has earned over 1 million active installs, according to the stats for WPForms Lite at WordPress.org. It was co-founded by CEO Syed Balkhi, the man behind the ever popular WordPress blog WPBeginner, prominent lead generation software OptinMonster and Google Analytics tool MonsterInsights. The tool was also founded by CTO Jared Atchison, a WordPress consultant whose clientele includes LeadPages and ShareASale.
Many of the contact form plugins available at the time were fairly simple to use but still required a bit of technical know-how if you wanted to add a decent-looking form to your site. The founders of this plugin wanted to create a tool that allowed anyone to build their very own custom form, complete with multiple functionalities, in a matter of minutes. That's how WPForms came to be.
Let's briefly go over what it has to offer.
Overview
Drag-and-Drop Form Builder – Some plugins require you to use HTML and CSS to build your forms, which can be too technical for some and too time consuming for all. WPForms comes with a drag-and-drop form builder you can use to create forms quickly and easily.
Pre-Built Templates – This plugin makes things easy by allowing you to start with a pre-built form template and complete your form by adding or taking away certain fields.
Multi-Page Forms – If you want to use a contact form plugin to create an application or long-form questionnaire, WPForms is the way to go. This plugin allows you to divide longer forms into different pages on your site.
File Uploads – This setting allows users to upload files to forms. This can be useful for applications.
Conditional Logic – This features allows you to collect relevant data from forms by changing its content dynamically based on what the user has selected. You can choose to show or hide certain fields and even add custom text based on what a user has selected.
User Registration – WPForms is multipurpose and allows you to use the plugin to create custom registration forms for WordPress.
Custom CAPTCHA – Filter our bots and spammers by adding your very own questions and mathematical questions to this plugin's CAPTCHA feature.
Entry Management – Entries are stored in the WordPress database, so you can view them all in one location. You can even filter entries by form to make viewing them a little easier.
Add-Ons
WPForms has extra features packaged into add-ons. You don't need to pay individual fees for them, however. They're simply extra features built into the plugin's pricing structure. As always, the higher the plan you subscribe to, the more features you'll have access to.
Some of these add-ons are integrations with other services. These include PayPal and Stripe for payments and MailChimp, Aweber, GetResponse, Constant Contact and Campaign Monitor for email marketing. You can also integrate your forms with Zapier to enable seamless automations, such as saving saving new entries to a Google Spreadsheet, saving files users upload to Google Drive and creating new Trello cards for entries.
Here are a few additional add-ons that'll supercharge the way you use and create forms in WordPress:
Post Submissions – Allow users to submit guest posts through a form.
Surveys & Polls – Engage readers and collect feedback by using forms to create surveys and polls.
Signatures – If having users confirm their identity is important for your business or organization, use the Signatures add-on to have them sign forms with their mice or touchscreen devices.
Form Templates Back – Want even more styles, including niche-specific form templates? Pro and Agency customers have access to an even larger collection of form templates.
Let's get into how it feels to actually use this plugin.
Installing & Setting Up WPForms Lite
We're going to take a look at WPForms Lite for the purposes of this tutorial. It's a great place to start if you're interested in this plugin. Plus, upgrading to the premium version is a straightforward process. All you need to is pay for a plan, download the ZIP folder for the premium version, upload it to WordPress, activate it, and deactivate/delete WPForms Lite.
Speaking of which, WPForms Lite is available in the WordPress plugin repository, so all you need to is search for it inside the WordPress admin are to install and activate it on your site.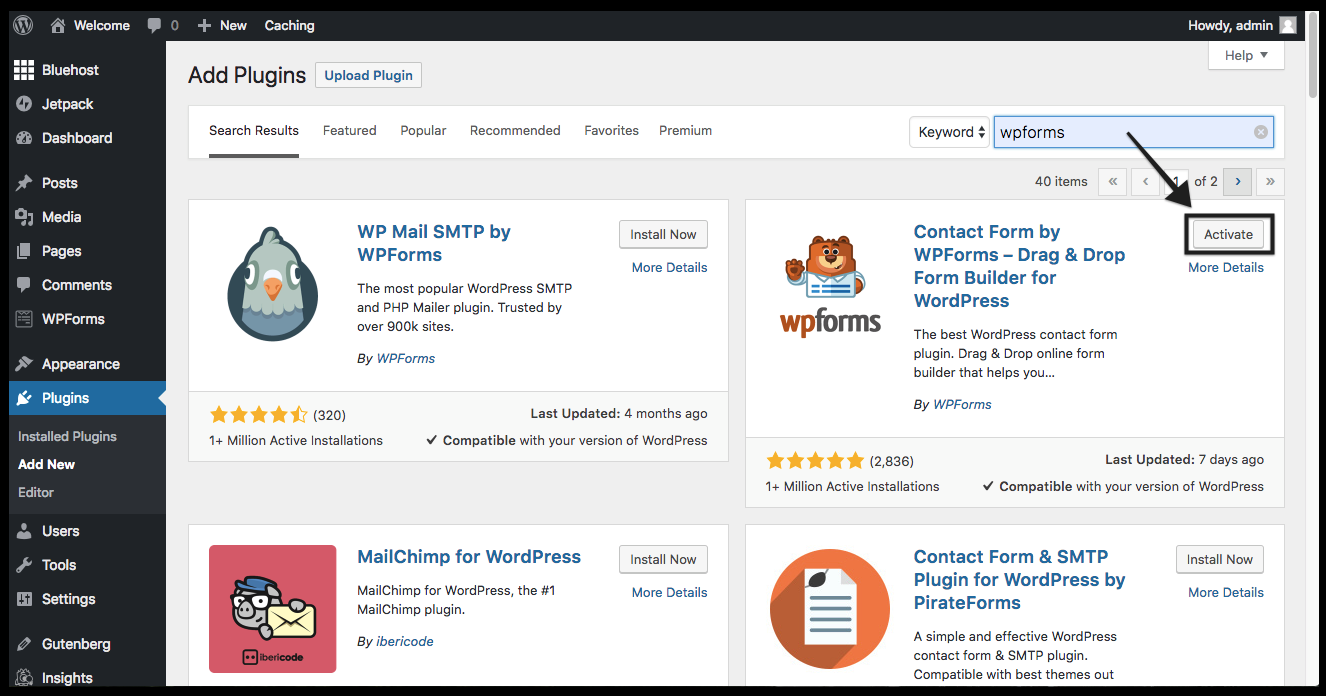 I don't want to spend too much time on the settings this plugin offers, so I'll simply mention the most interesting ones. There six tabs, for starters:
General
Email
reCAPTCHA
Validation
Integrations
Miscellaneous
The Email tab features a few simple settings that allow you to customize the way notification emails appear. You can choose between an HTML template or a plain-text email, and change the header image and background color for the HTML template. The Custom CAPTCHA isn't available in the free version, so you'll use the reCAPTCHA tab to set up Google's CAPTCHA service instead.
Creating Your First Form
One of the first things you'll do with this plugin is create a form. It even redirects you to a page inside the WordPress admin that contains a video and text-based tutorial on how to go about creating your first form upon installation. You're redirected to this plugin's frontend form builder, or drag-and-drop form builder, if you will, when you create a new form.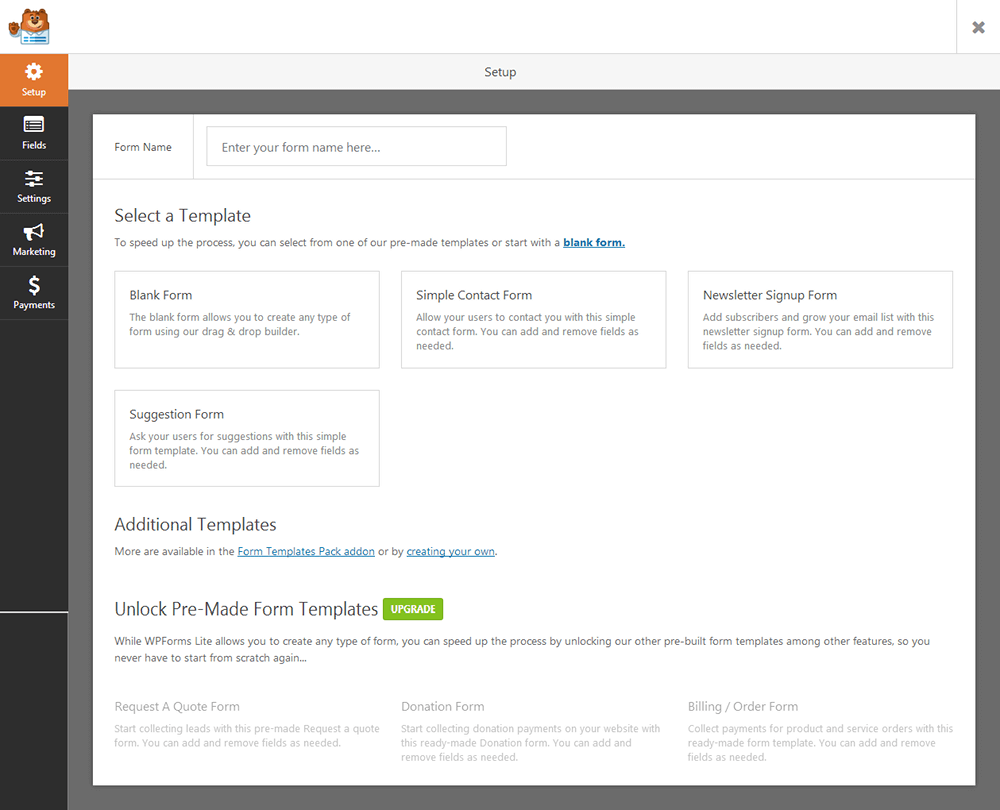 After naming your form, you're required to select a template. Don't worry, though. If you want to build a form from scratch, all you need to do is select the Blank Form template. You can even create your own template if you feel you'll need a certain type of form often, such as a survey. For the purposes of this tutorial, I simply named my form "Contact Form" and selected the Simple Contact Form template.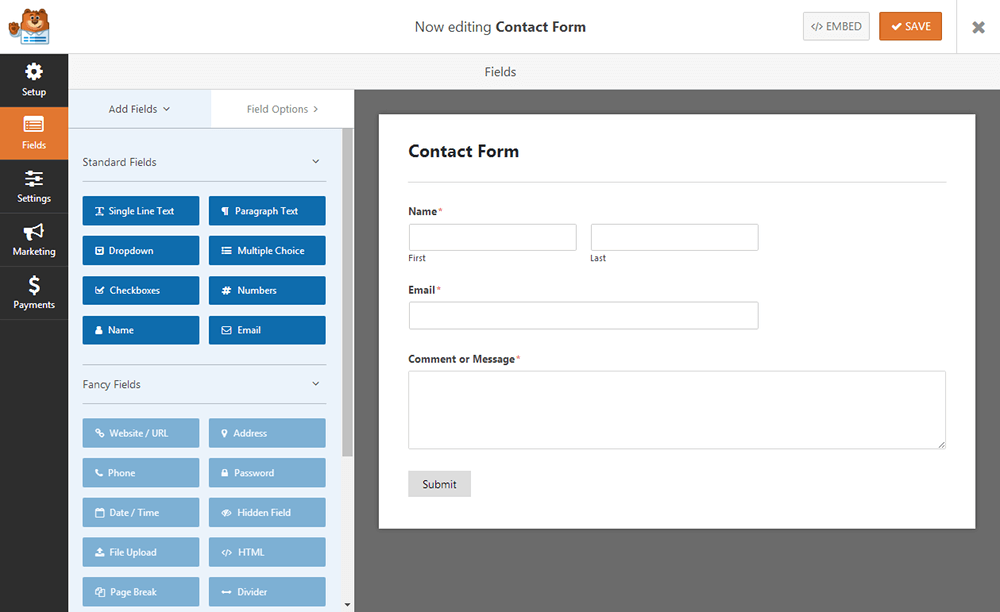 This template comes pre-loaded with the following fields:
Name
Email
Paragraph Text
These are labelled "Standard Fields," all of which are available to you in WPForms Lite. Additional fields are labelled "Fancy Fields" and "Payment Fields." These are grayed out in WPForms Lite as you'll need a premium plan to gain access to them.
When you hover over a field inside your form, you'll be able to duplicate or delete it. You can also, of course, drag and drop fields to add or rearrange them in your form.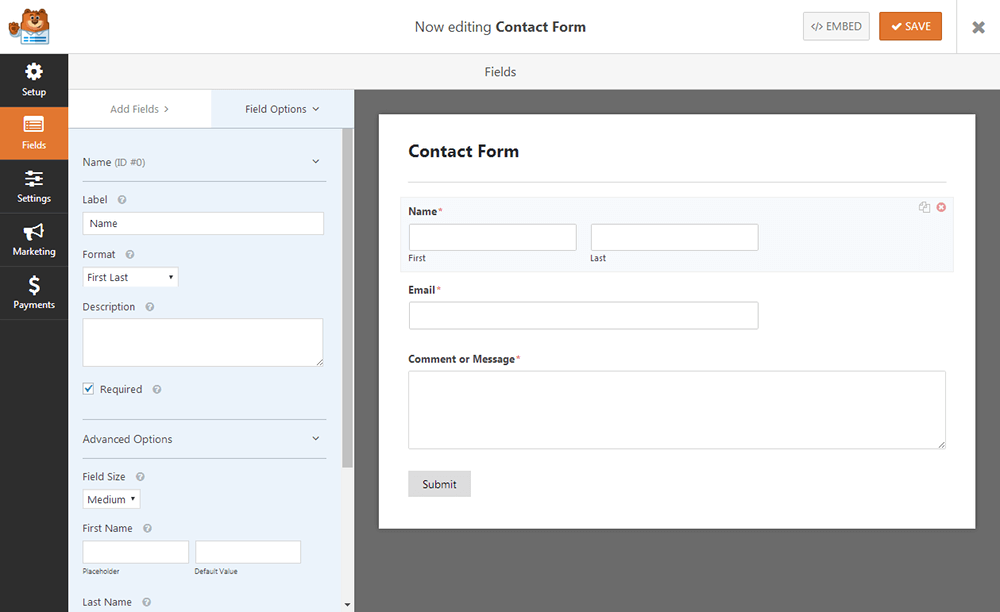 Click over to the Field Options tab if you want to customize the appearance and functionality of a field. For most fields, this means changing its label, adding a description to it if you wish, choosing whether or not to make it required, changing its size, adding placeholder text, and even adding a CSS class. Different fields have a few extra options specific to them.
Configuring Your Form's Settings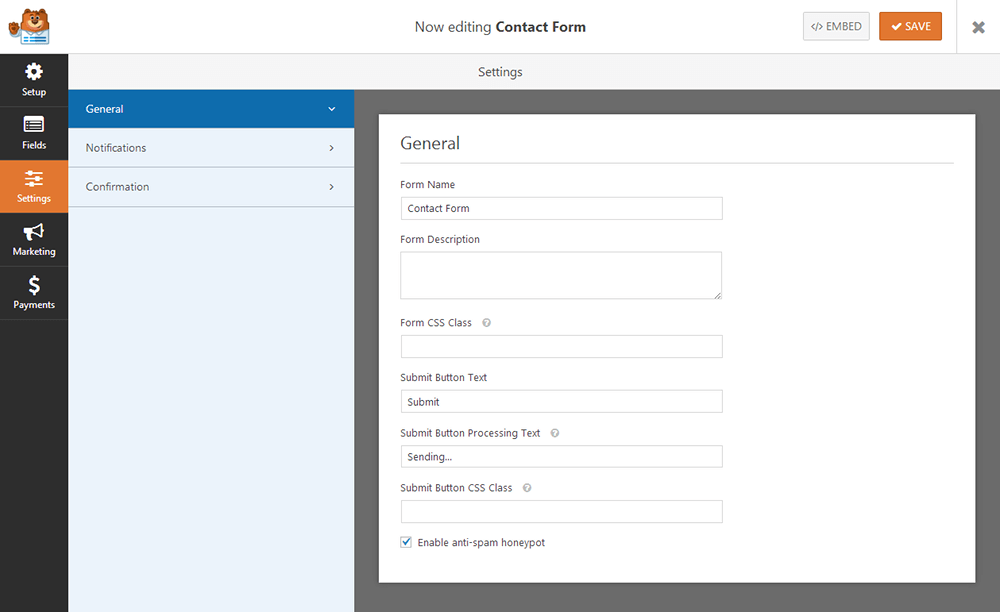 The General Settings section allows you to change the way your form appears. This includes its description, if you want to add one, its style and its Submit button.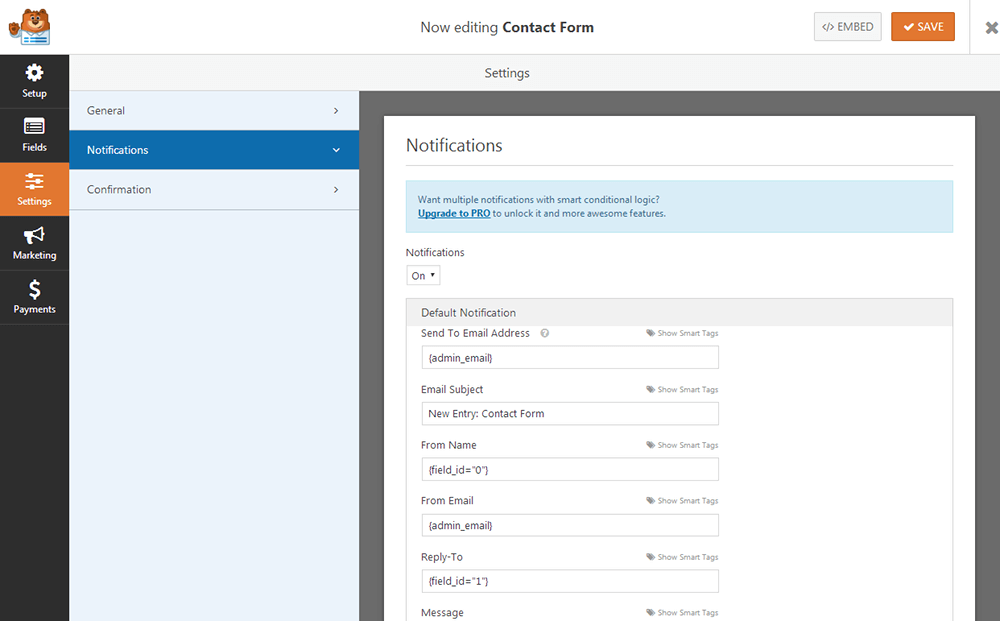 You can choose to receive an email notification when a new form is submitted. The Notifications tab allows you to change basic information for notifications, such as the email address to send them to, the subject notifications should have, and the From Name, From Email, and Message tabs.
The Confirmation tab is a simple tab that features a text editor you can use to change the brief confirmation message that appears to a user when they submit a form.
The Marketing tab features settings you can use to integrate your service with the email marketing service provider I mentioned earlier as well as Zapier. Constant Contact can be used in WPForms Lite, but the rest of the tabs are grayed out. Lastly, you can integrate payment settings in your form with the Payments tab.
Embedding Forms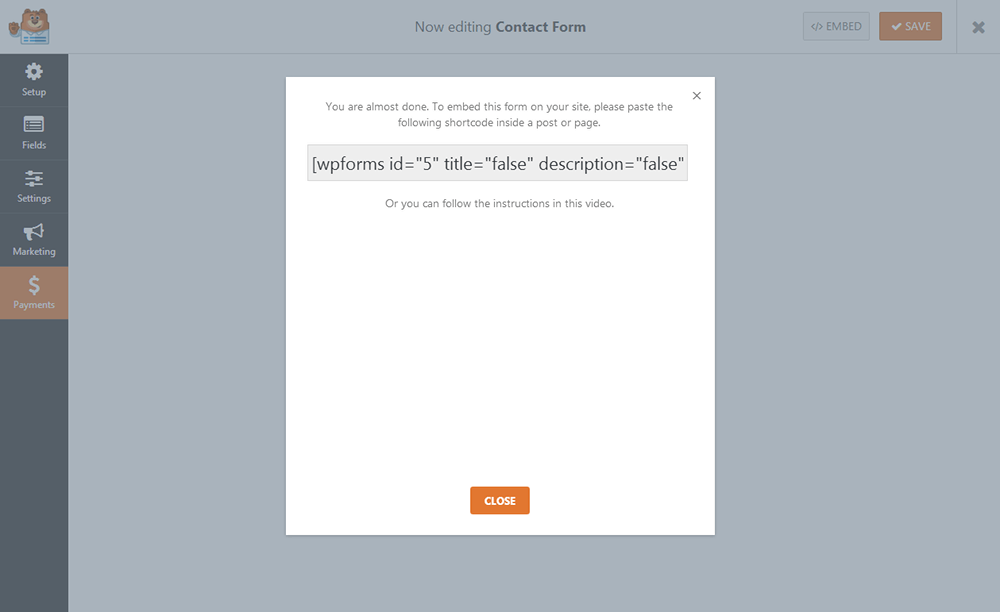 When your form is finished (make sure you save), you need to embed it somewhere to actually use it. If you want to display the form on a particular page, click the Embed option, and paste the embed code in your page's text editor. Alternatively, you can use the WPForms widget to add a form to widget areas.
Migrating to WPForms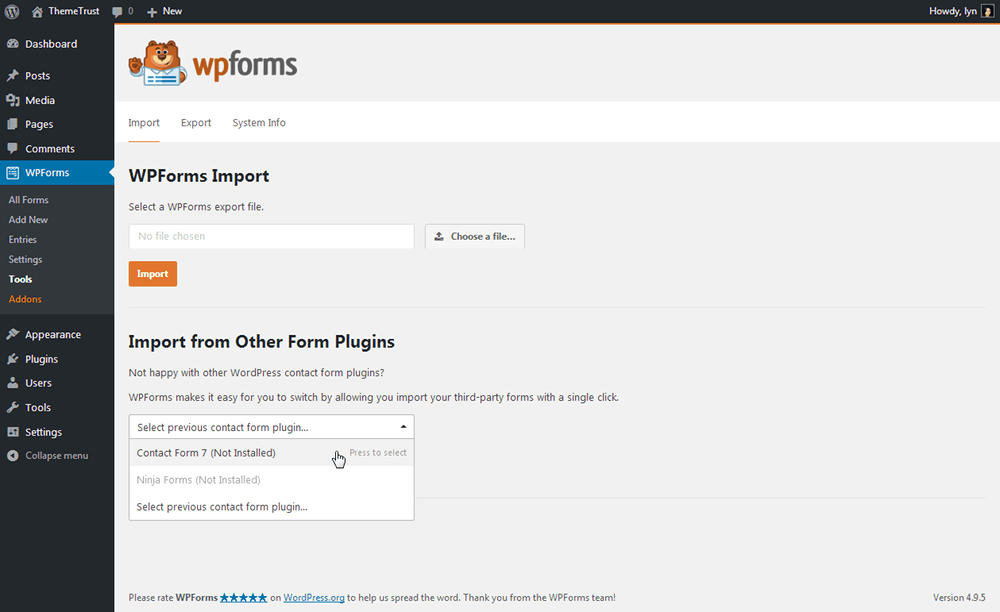 Are you currently using Contact Form 7 or Ninja Forms? WPForms has a feature you can use to import your forms from these plugins to WPForms. All it takes is a few simple clicks. The plugin takes care of the heavy lifting.
Pricing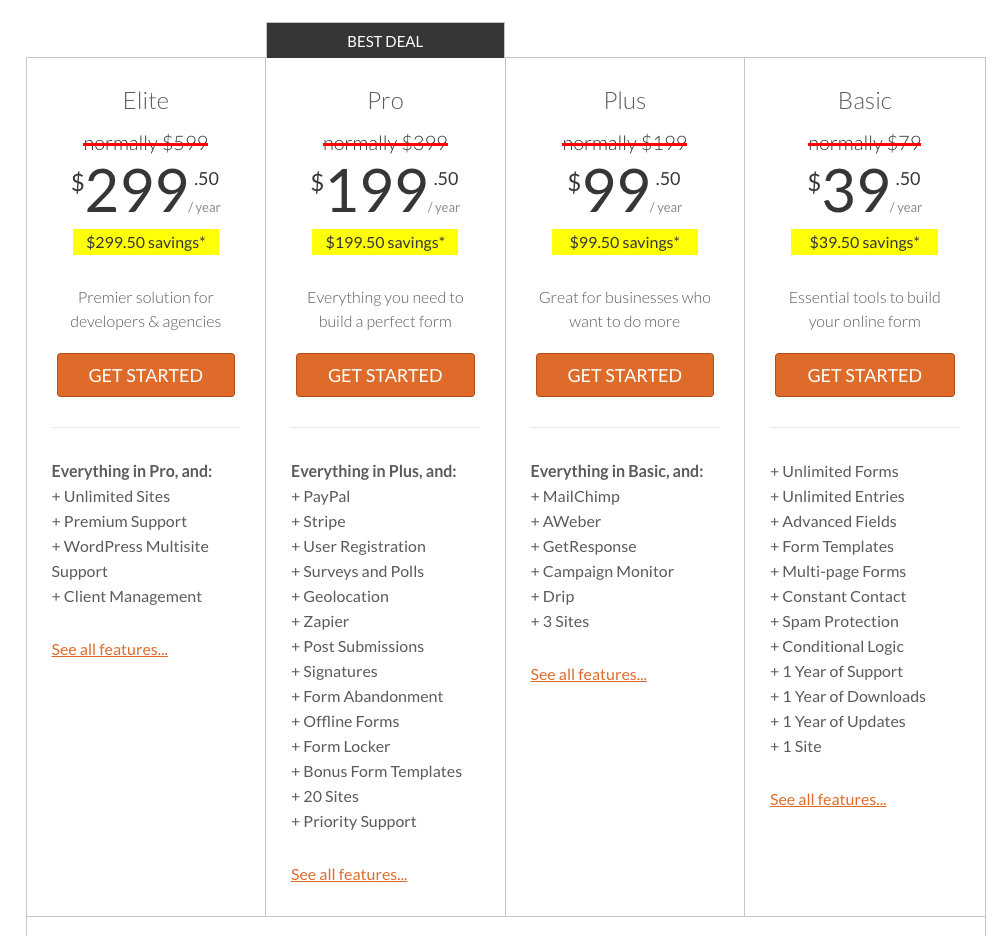 We more or less got to everything included in the free version of this plugin, so let's focus on the premium version. There are four premium plans named Basic, Plus, Pro and Agency. All plans come with 1 year of support and updates, and each can be refunded within 14 days of purchase.
The Basic plan, available for $39.50/month, introduces unlimited forms and entries, advanced fields, additional form templates, conditional logic, and spam protection. The Plus plan, available at $99/month, gives you more email marketing integration options and allows you to use the plugin on up to three sites.
More advanced features, such as the ability to use PayPal and Stripe, registration forms, Zapier, and signatures, are available in the Pro plan, which is available at $199.50/month. You'll also be able to install the plugin on up to 20 sites. The Elite plan is available at $299.50/month, and it ups the ante by allowing you to install the plugin on unlimited sites, offering premium support and client management, and including support for WordPress multisite.
Try WPForms today by installing WPForms Lite, or visit the company's official website.