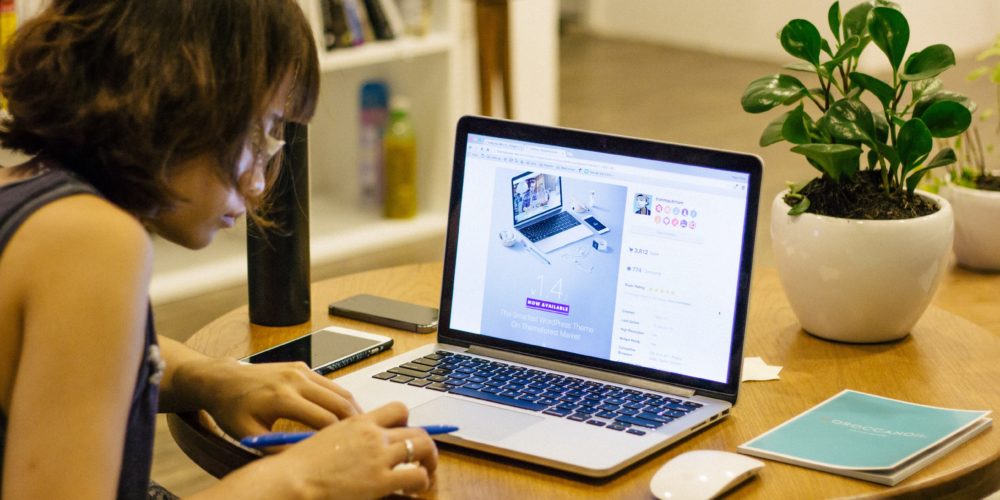 WordPress is one of the most popular ways to create a website, nurture an audience, and grow your business or blog. There are 54,943 plugins available on the WordPress.org plugin page. There are plenty of great opportunities to improve your existing website with these plugins.
Instead of digging through the tens of thousands of plugins yourself, we've compiled a list of some of the best free plugins that you can download for your site in 2019.
The topics here span far and wide including form builders to affiliate marketing link builders and everything in between. In many cases, these plugins have premium upgrades if you enjoy the free version and want to add additional features.

WPForms Lite is a form builder designed to help you create beautiful contact forms for your eCommerce shop or blog. It comes out of the box with free templates and an intuitive drag and drop builder. The builder allows you to type up customer blocks of text within your form and place it where you see fit.
It's also possible to create reCaptcha and validation boxes so users can access your content with minimal risk of spam bots making it on your site. Finally, you can link WPForms Lite to your email to receive messages when someone completes one of the forms you've placed on your site.
Tracking your Google Analytics is extremely important, regardless of the type of website you operate. MonsterInsights Lite is without a doubt the best way to integrate your Analytics account directly to your WordPress website.
Instead of tracking multiple websites, you'll have up to date statistics on your page views, bounce rate, source traffic, and more. After you've installed MonsterInsights you'll have access to all of this data and you'll be able to track all your stats in real time.
The premium version of this plugin allows for the end users to track forms, popular pages, eCommerce sales, and ad clicks.

There are a whole list of problems that could plague your WordPress website. Updraft Plus helps deliver peace of mind against site owners who want to be prepared in case of an attack by a hacker, server glitches, or faulty updates.
Updraft Plus allows you to upload a clone of your WordPress site to their server. If something goes wrong and you need to access a previous version of your site, you can get it directly from their website.
This plugin allows the user to store up to 100GB per website. You can even backup non-WordPress files if you need to keep certain aspects of your website together, even if they are not directly connected to the source files of your site.

A sense of community is extremely important whether you have a membership site or just a simple blog. BBPress makes it easy for you to add forums where your users can communicate with each other with ease.
Many users love the fact that BBPress has a simple installation and doesn't require heavy coding when setting up. There are plenty of ways to add custom forums to your WordPress site, but this plugin is easy to use, easy to download, and completely free.

Envira Gallery, as the name suggests, is the most 'visual' plugin on this list. The primary function of Envira Gallery is to create custom photo galleries with their simple drag and drop builder. You can create custom albums, add watermarks, and even include tags if you want to keep all of your galleries organized.
The reason this plugin made the list is that it has the option to embed your keywords into each gallery, which helps build your SEO rank. We also love that it comes with video support for full-length video galleries.

SEMRush is an excellent content marketing tool designed to drive more traffic to your website. You can use this plugin to do research on your keywords and see where there's room for improvement. It takes seconds to compare your results to those of your competition so you can get a feel for what kind of changes you need to make to ensure that your content reaches a wide audience.
After you're done checking over your results, you can combine them and create easy to read reports. SEMRush gives you the ability to add your branding, the ability to comment on statistics, then send that data to your team members.

Yoast SEO is one of the oldest and most respected WordPress plugins available. Installation takes a few minutes, then you'll gain full access to your SEO information on every single page of your website.
Yoast assigns pages a color-coded ranking and gives the end user suggestions on how they can improve the text. Beyond identifying SEO, Yoast offers a readability score on your content so you can always rest assured that you're putting out your best work.

Link building is an excellent way to improve your traffic through many different sources. The only problem is that your links may not look great on social media or on affiliate websites. Pretty Links changes that by allowing you to shorten your links to make them more, well, pretty!
There's a whole host of features available for Pretty Links upon installation. Aside from shortening links, you'll have the ability to track the users who click the links you create. These statistics allow you to gauge which links are working, and which ones may need some work.
Beaver Builder is a sleek, free, and intuitive drag and drop builder designed to help those new to website building create an excellent site. You don't need to know anything about coding in order to create your website with this plugin.
After you've set Beaver Builder up, you can create your website by creating cells and placing them on a page. Inside each cell, you can include text, pictures, videos, charts, contact forms, and much more. They also boast about having an involved community that helps new users get their plugin working as soon as possible.

Sucuri is the first security-themed plugin on this list. When you use the basic version of Sucuri you're able to enter in website addresses and the plugin will detect malware, spyware, out-of-date software, and website errors.
All in all, very few free security plugins exist for WordPress. The premium versions are able to more accurately track down problems on your site and resolve them instantly. But if you're looking for a free analysis of your site for malicious software, Sucuri is the way to go.

WooCommerce is an excellent free plugin if you're looking to sell a physical or digital product online. This plugin is super simple to set up and gives you complete control over your ecommerce storefront. Once installing Woocommerce, you'll see that it comes with the option to accept credit card and PayPal payments, making it an invaluable tool for business owners.
After downloading the plugin, you can choose from hundreds of free and premium extensions that allow you to tweak your storefront in exciting ways. You'll also have the ability to add features like membership exclusivity on items and you can sell all of your products in various sizes and prices.

WP Super Cache is a tool that gives you the power to improve your site speed. Once the plugin is installed and set up, you can serve static images to the people who visit your website based on a variety of criteria, such as whether or not the user commented on your blog posts.
After installation, you can use WP Super Cache to compress the pages on your website by creating static versions of the site for users who visit your page. As a result, your website uses fewer resources and you'll boost the overall speed of your site pages.  

Shared Counts is a free plugin that allows users to add social share buttons to their website. The reason people prefer this plugin over other free social share software is the fact that it lists the number of shares and retweets on each post for your end users.
There's evidence showing that this improves social proof, which makes your business appear more reputable. You'll also be able to gauge what type of content is social media friendly, and which content you may need to rework in order to make it shareable.

ZenDesk Chat is a premium chat plugin that works well with WordPress websites. They offer a host of premium chat functions ranging from normal conversations between customers and agents, marketing bots for social media and your website, and even automated chatbots that can help handle basic customer functions.
You'll have the option to download and try any of the versions available. This is an excellent opportunity for business owners who want to experiment with the benefits a live chat program can bring to your website. The free version of Zendesk Chat tracks your agents and conversations so you can go back and review conversations from up to 30 days from the time of your search.

Formidable Forms is another fantastic form builder that you can start using for free. This plugin uses a simple drag and drop builder that allows for creative freedom when creating your forms. It's easy to create complex, multi-field forms with conditional logic so that it can adjust according to your users' answers.
It's also simple to create surveys and polls so you can track your customers' response rate and results. The premium version of Formidable Forms offers even more advanced features for those who want to step up their website forms.

TablePress is a great free plugin that lets you create custom graphs and tables on your website. You don't have to know how to code to add these tables to your posts, text widgets, or pages.
If you have a general idea on how to code you'll get the freedom to design your table from the ground up. All of your graphs are available on a spreadsheet, giving you the freedom to move and tweak your creation. This is an open source program, so you'll never have to worry about paying a dime for this plugin.

Seriously Simple Podcasting is one of the easiest podcast posting plugins available for WordPress. You can create custom channels based on the type of content you're creating and even add in your cover image to build brand recognition.
The best thing about this plugin is the fact that it really is seriously simple. There are minimum settings and things you can do to alter the base program. However, if you want to upload content to your audience and don't have much experience with coding, this plugin will ease the uploading and sharing process.

Thirsty Affiliates is a link sharing plugin that is targeted at people who want to track affiliate links. You can create custom links for different influencers and track all of those links in real time.
Aside from having the ability to monitor your links, you can also use Thirsty Affiliates to create short, easy to read links that clean up messy looking content. Finally, you can cloak links in your content–making it super simple to add multiple affiliate links to the same post or page.

WP Mail SMTP is a free email solution designed to solve one of the biggest WordPress problems business owners face. Normally, when a customer emails you, the email comes through as a PHP Function. As a result, deliverability tends to be blotchy and you may miss important messages from your audience.
WP Mail SMTP changes the PHP function to an SMTP (simple mail transfer protocol) — the industry standard. The end result is emails are far more likely to make it directly to your inbox so you can address customer questions and concerns on the fly.
Conclusion
These plugins have a variety of different uses that you can use to improve your WordPress website. If you're on a budget, or just looking to try the latest business trend, you'll benefit from virtually all of the options here.
Most of the plugins available are designed for new users, but if you find yourself interested in learning code, there are a whole host of custom options to tweak the way each plugin works. Combine this flexibility with a ton of different feature-rich extensions and you'll be on your way to growing your website beyond 2019.