Kinsta is a managed WordPress host powered by Google Cloud Platform. It was founded by longtime WordPress user and developer Mark Gavalda in December of 2013. It's taken the WordPress world by storm since then, earning the respect of leaders from around the industry and acquiring a clientele featuring a number of different high-traffic websites across multiple industries, including this very website.
We're going to take a closer look at the hosting service Kinsta offers, covering the many advantages and few disadvantages you'll experience while using it. We used our own website, ThemeTrust.com, to collect some of the numbers you'll see below, giving you real-world examples of how this host performs. Let's get into it.
About Kinsta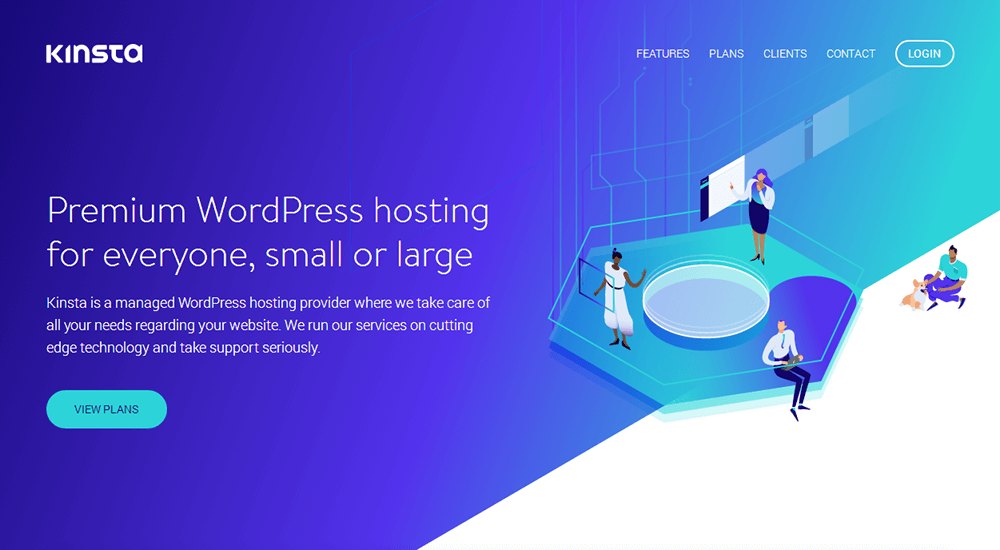 Kinsta caters to WordPress exclusively, and they use the cloud computing services offered in Google Cloud Platform to do it. We'll get to what this means in a second, but I wanted to go over what this company is about and the clientele they have first.
For starters, Kinsta has three offices located in Los Angeles, London and Budapest. They have a modest but well-equipped team who are skilled in development, management, customer service, marketing and more. Founder and CEO Mark Gavalda built the service as a way to offer a state-of-the-art hosting infrastructure to WordPress users, and the company still funds and attends WordCamps to this day.
That hosting infrastructure has been instrumental to the success of high-traffic websites. This includes Intuit, the company behind a suite of financial software that includes such applications as QuickBooks, TurboTax and Mint. The company had been through a number of different hosts before choosing and staying with Kinsta, stating this:
"Out of the handful of hosts and solutions we tested, Kinsta provided the best-in-class performance while reducing our teams dependency on DevOps support — Kinsta's support team is second to none." -Jake Martin, Sr. Mgr, Web Architect, Intuit
One other notable testimonial is that of DARTDrones, who consulted Kinsta prior to having their product featured on ABC's Shark Tank. The company's WooCommerce site saw a heavy influx of traffic throughout the show's air time, documenting over 1.2 million requests throughout the hour, which Kinsta's servers were able to handle just fine. Let's go over why with our first two pros.
Pros of Hosting with Kinsta
I'm going to break down Kinsta's most crucial features by discussing the pros and cons of using it to host your website. We'll work our way through the pros before going through the cons. I'll cover pricing and support in depth after that.
Optimized for WordPress
Let's talk about the service Kinsta offers for WordPress users in terms of what managed WordPress hosting is. Many are familiar with shared hosting, such as the hosting infrastructure offered in some of SiteGround's plans, so let's use that as a comparison. With shared hosting, you're responsible for almost every aspect of your site's management and maintenance. You're in charge of installing WordPress on your server, backups (sometimes), WordPress security, WordPress updates and more. Managed WordPress hosts, on the other hand, handle all of this for you. That includes Kinsta.
We'll get to backups, security and performance checks in a bit, but I wanted to touch base on WordPress updates briefly. Some managed hosts force you to install WordPress core updates, which can, however unlikely, cause your site to break if something turns out to be incompatible with the update. Kinsta only updates minor WordPress core updates for you. It allows you to test how your site responds to major updates in a staging environment before pushing the update to your live site. More on this in a bit.
Powered by Google Cloud Platform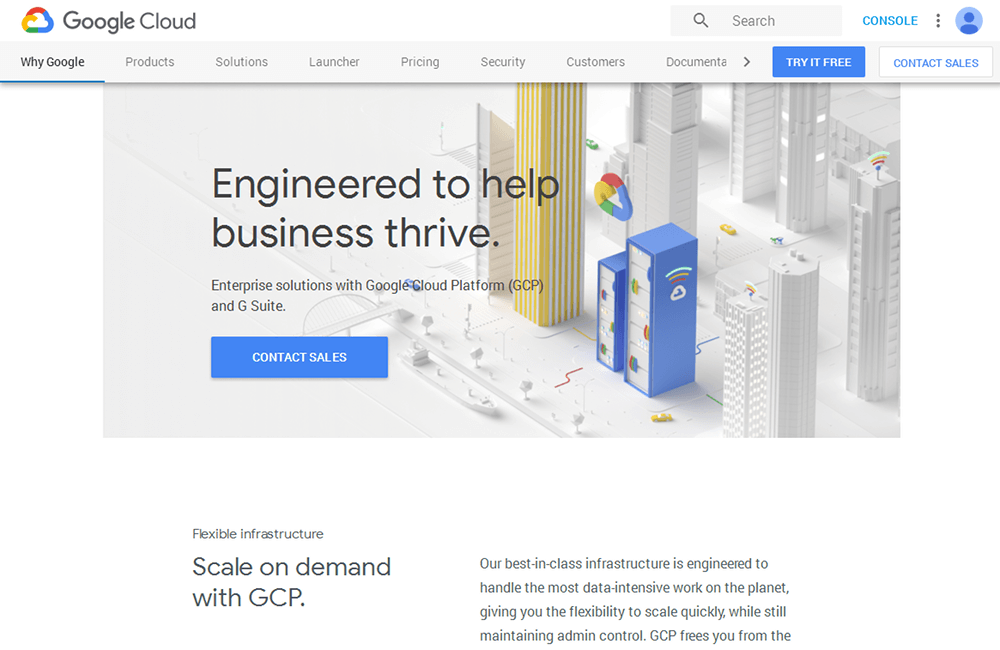 Kinsta's hosting infrastructure is powered by Google Cloud Platform, which uses, you guessed it, cloud computing. Cloud hosting has been revolutionary for high-traffic websites, especially those ran by ecommerce businesses. They give your website the ability to scale and draw on more resources no matter how much traffic your site sees. Meanwhile, traditional hosting infrastructures have a tendency to crash during traffic spikes.
Google Cloud Platform also gives you access to 15 global data centers. This gives you the ability to serve your content to international customers.
Built for Speed
Kinsta's hosting environment is perfectly suited to help your site run as smooth as possible. While Google Cloud Platform plays a huge role in this, it's also thanks in part to the service's use of MariaDB, PHP 7, Nginx and LXD containers as well as the inclusion of their built-in caching service.
This service negates the need for you to install a third-party caching plugin. It performs four types of caching and comes with its own plugin so you can clear your cache from the WordPress dashboard and set up custom caching rules.
Of course, your performance is also heavily dependent on how well you optimize your site. You can see in the screenshot above ThemeTrust.com had a page speed of 1.21 seconds, but I've also tested sites that had a page speed of a few hundred milliseconds when hosted with Kinsta.
Impressive Uptime Performance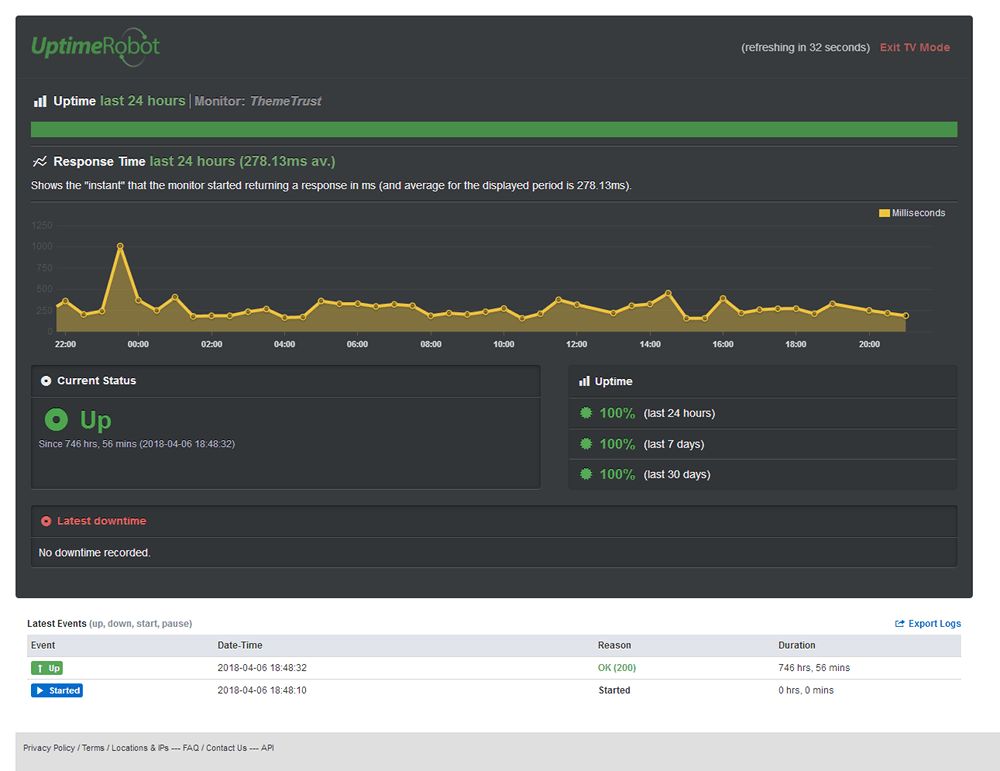 Uptime performance is important. You lose out on business for every second your site is down. That's a big reason why Kinsta chose to build their hosting environment with Google Cloud Platform. Cloud hosting gives your site the ability to scale, as established before. This means you won't need to worry about your servers going down should you receive a random spike in traffic.
Kinsta's Service Level Agreement includes an uptime guarantee of 99.9%. Should the service be unable to provide an uptime performance of 99.9% or higher for you, you'll be entitled to receive a credit in the form of a 5% discount on your next invoice.
I created a monitor for ThemeTrust.com on Uptime Robot and let it run for a month, which you can see in the screenshot above. You can see Kinsta was able to keep the server live throughout the duration of the test and that the average server response time recorded over 24 hours was 278 milliseconds.
Security
Managed WordPress hosts are popular for a number of different reasons, but security is definitely toward the top of the list. They handle most of everything for you while you'd typically need to rely on a number of different plugins and solutions or code security protocols into your file system manually. Kinsta is no different.
High-end technology is just the tip of the iceberg. They also offer secure access to your site's file system with SFTP and SSH, free SSL certificates from Let's Encrypt, DDoS protection and constant uptime monitoring. Hardware firewalls and active and passive security tactics are used to keep hackers at bay. Two weeks worth of backups are stored in case something goes awry. Plus, if a hacker or malicious code ever does work its way through the cracks, Kinsta will fix it free of charge.
Daily Backups
Kinsta backs up your site on a daily basis and allows you to use those backups to restore your site to a point where it was last functioning correctly should something break. You can even pay an additional fee if you'd like backups to occur more frequently, such as once every hour. Lastly, Kinsta offers a staging environment, and backups for live and stage environments are taken and stored separately.
Free Migrations
If you're moving a live site from another host to Kinsta, you'll be able to receive a free migration. The host's support team will assign a temporary domain to your new server so they can test everything before linking your official domain and going live. All of this can be done without any downtime, so there's no reason to fear losing business on "moving day."
Intuitive Dashboard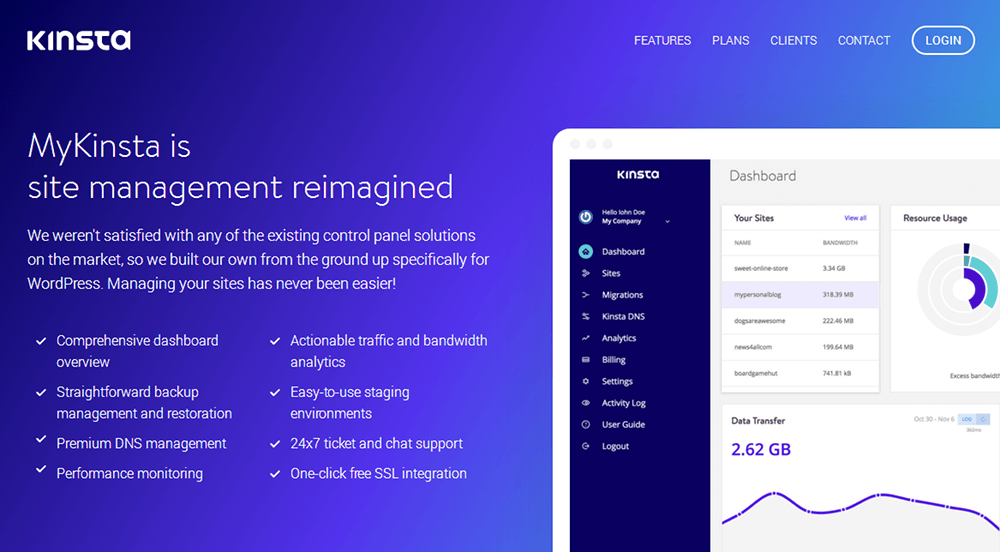 MyKinsta, the name Kinsta has given their control panel, is a suite of features you can use from this host's intuitive dashboard. You can use this dashboard to manage nearly every aspect of your site. This includes the domains pointed to it, your backups, security features, your database, your file system and more. You can even access developer tools, such as the staging environment you can use to test changes to your site in a controlled space.
An impressive feature is the built-in analytical data, which you can use to monitor your site's traffic, uptime performance, bandwidth usage, location data and more.
Developer-Friendly Features
I've mentioned the staging feature a few times, and it is a useful feature for all users, but it's especially useful for developers. A staging environment allows you to clone your site and move it to a different part of your server. This version of your site is not live nor will any changes you make to it affect the live version of your site. What's more, you can "push" changes you make to your staged site to the live version so you don't need to make the changes twice.
You can also use tools like WP-CLI, SSH and Git as well as past and current PHP versions.
Cons of Hosting with Kinsta
Let's quickly go over a few disadvantages that come along with using Kinsta over another host. They mostly have to do with Kinsta's nature as a managed WordPress host, however, and they aren't too severe.
No Domain Registrations
Kinsta doesn't offer domain registrations at this time. This can be a disadvantage to some, especially novice website owners who are used to shared hosts that offer everything under one roof. However, you can just as easily use a domain registrar and connect your domain to Kinsta. I recommend doing so, anyway, as having your domain hosted by the same service that hosts your website can make it difficult to transfer your site without experiencing downtime.
No Email Hosting
This is another feature typically offered by shared hosts. It allows you to create email addresses using your domain, send/receive email and manage your inbox. Kinsta doesn't offer this service, which again, can be an issue to those who are used to accessing it natively from their hosts' control panels.
Instead, the service recommends G Suite, a suite of applications Google offers to business owners to help them manage business email, documents and more.
Somewhat Restrictive
As a managed WordPress host, Kinsta handles a lot for you, and similar to other managed WordPress hosts, they don't allow you to use a specific set of plugins because of this. The reason is simply because these plugins would interfere with the services Kinsta already provides for you and would ultimately lead to performance issues.
Unfortunately, some of these plugins include such popular options as Wordfence, WP Fastest Cache, WP DB Backup and EWWW Image Optimizer. If you're the type of site owner who prefers to manage their own site security, backups, performance and more, this host, along with managed WordPress hosts in general, probably isn't for you.
Pricing & Support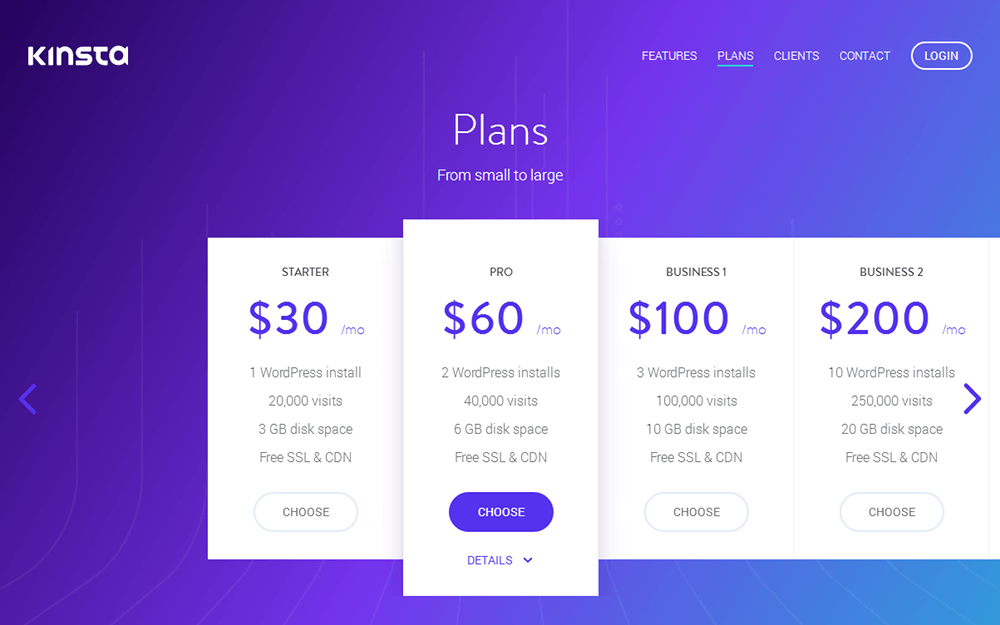 If you're currently on a shared hosting server, you'll probably be put off by Kinsta's pricing structure. However, they're competitive with other cloud and managed WordPress hosts. Plus, their pricing plans used to be much higher, originally starting at $100/month during the host's first few years in business.
One thing I like about Kinsta's pricing page is how honest it is. They offer month-to-month and annual plans and tell you as such. You can see how many visitors per month each plan can handle.
There are eight plans in total, starting at $30/month and going all the way up to $900/month. These plans can handle between 20,000 and 1.5 million monthly visits, and you'll have access to as little as 3 GB of SSD storage to as much as 120 GB. You can even contact Kinsta's support team if you need a custom solution to support more monthly visits, more storage and more.
If you're a current customer, support comes in the form of a live chat feature you can access from the MyKinsta dashboard. There's also an extensive knowledge base as well as a blog that features multiple articles on Kinsta's services.
If you'd like to learn more about Kinsta or sign up for a hosting plan, visit the link below to view their website or contact their customer support team.