You've got to love WordPress' ability to host any kind of content, thus letting you basically publish whatever you wish as a website owner or blogger. That being said, though, there is still a lot that can be done to make those non-standard content types look even better compared to what you get from an untouched installation of WordPress and a standard theme.
If you're using a theme like Create or Weston, you have tools built in that let you easily add beautiful portfolio galleries. These themes make it easy to showcase your work in grid or masonry layouts and add engaging hover effects.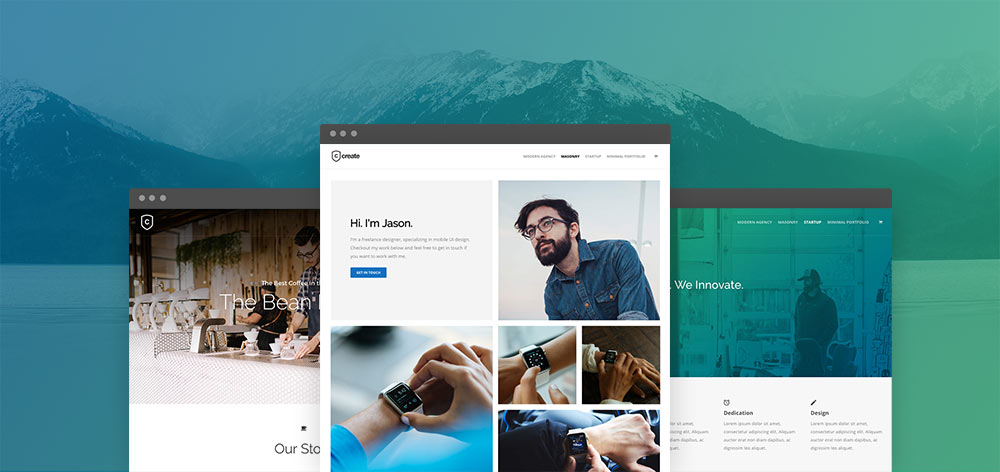 However, if you are using a standard theme, you don't have these options. But there are plugins that can do much more than the standard WordPress gallery.  Our favorite premium gallery plugin is NextGen Gallery.
And if  you're on a budget, there are several free plugins that do a great job of adding much needed gallery functionality to WordPress. Without further ado, here are the top 7 free gallery plugins for WordPress:
NextGEN Gallery

Currently, one of he most popular gallery plugins for WordPress, with over 1 million active installs and 14 million downloads (and counting).
It offers a complete management system for your galleries (similar to how managing posts and pages works). You can batch upload, manage individual images, edit thumbnails, group galleries into albums, and much more.
Envira Gallery Lite

Another very popular and quality WordPress gallery plugin. This one is geared at delivering the easiest-to-use interface possible. Everything works with drag-and-drop, and you also get various gallery templates to make your experience even more hassle-free.
Every gallery you build with this plugin will be mobile-responsive, and will have built-in social sharing. Lastly, you can import Instagram images into your galleries too.
Modula

Modula Grid Gallery Lite is a beginner-friendly gallery plugin that lets you create responsive, stylish galleries in just a few seconds using drag and drop.
While the gallery wizard does help you get up and running quickly, you can also optionally dig into more advanced settings to add lightbox galleries, image effects, and lots more.
For even more functionality, like gallery filtering, you can consider upgrading to the Pro version.
Huge-IT Image Gallery

A very interesting gallery plugin that handles your images somewhat differently than anything else on this list. Apart from the various gallery layouts available, you also get to use custom titles and descriptions that get shown alongside your images.
With this plugin, you can display your images inside a grid layout, a masonry layout, you can use different sliders, and you also get a nice pop-up/lightbox functionality.
Gallery

Even though the name of this gallery plugin for WordPress could suggest otherwise, this is actually a quite advanced tool. It delivers a range of features and many possibilities regarding the appearance and behavior of your image galleries.
You can use Gallery to create both image and video galleries (works with YouTube and Vimeo), there are great editing tools, and every gallery is responsive (looks great on all devices). Lastly, there are additional features if you go for the pro version.
Photo Gallery by Supsystic

This plugin stands out due to the unique image customization features that it offers, apart from the standard stuff that you'd expect from a WordPress gallery plugin.
For instance, you can customize every image by setting a shadow, border, or caption. You also get different gallery styles (grid, carousel, polaroid, and more). Finally, all galleries are responsive and mobile-friendly.
Get Photo Gallery by Supsystic
Foo Gallery

Last but not least, we have Foo Gallery. This gallery plugin is really feature-rich, offering you loads of useful things. First off, you get a number of gallery templates. Then, it works not only with images but with videos too. All galleries are responsive, and there's a nice lightbox mechanism. On top of that, reorganizing your galleries can be done with drag-and-drop.
Lastly, if the built-in features aren't enough for you, there's also a whole extensions store, and you can even build custom extensions of your own.
What about Videos?
These plugins are great for showcasing images, but what if you need to display your videos in a gallery? We've written a detailed tutorial on how you can create a video gallery using Post Table Pro plugin.