Contact forms seem like a very common feature that every website should have, yet it's still something that's not included in WordPress out the gate. At the time of writing this, any kind of contact form functionality is available only through third-party WordPress plugins.
When we started developing premium WordPress themes, one decision we struggled with was whether or not to build in our own contact form. Considering there were so many very good contact form plugins already available, it didn't really make sense. Seeing how the list has grown since then, I think we made the correct decision.
Not only has the number of contact form plugins grown, but the quality and functionality has as well, and this is very evident in the #1 plugin on our list:
WPForms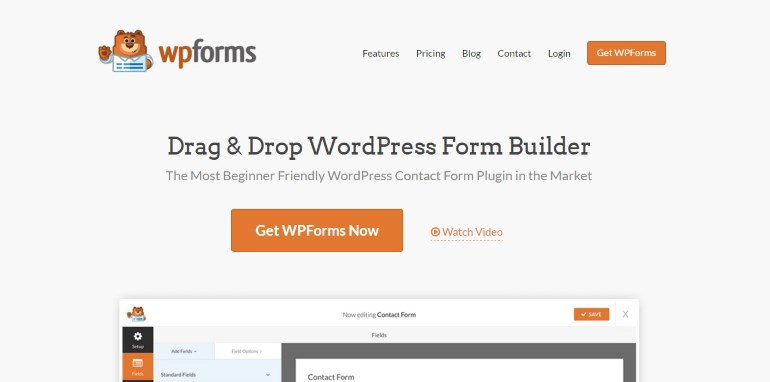 WPForms is not only a contact form plugin, it is a complete drag & drop form builder. If all you need is to create a quick form for your contact page, you can certainly do that, but it also gives you a plethora of tools to build pretty much any type of form you need.
The drag & drop builder allows you to build contact forms, online surveys, and donation forms in just a few minutes without writing one line of code. It's 100% responsive, which means your forms will look great on desktop, tablet, and mobile. And if you worry about spam, which you should, WPForms has built-in smart captcha and honeypot that automatically prevent spam submissions.
If you are creating complex forms, its Smart Logic has you covered, and a wide array of templates will help you create forms quickly. Then you can modify them as you need to.
The basic plan starts at $39.
Sendinblue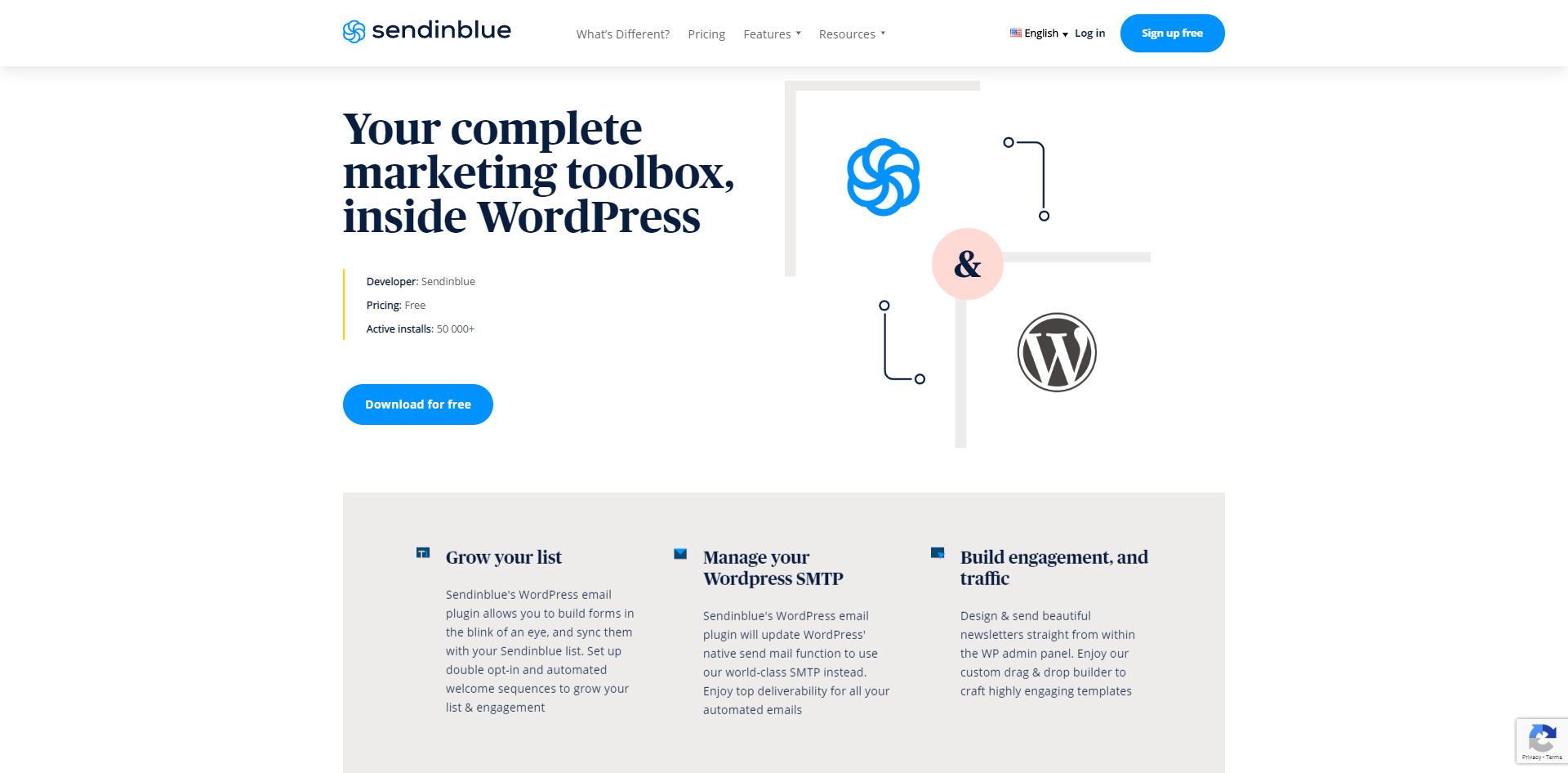 Sendinblue

's free WordPress plugin

enables access to our SMTP for enhanced deliverability and tracking. On top of that

Sendinblue

all in one marketing plugin allows you to:
Build and setup subscription forms
Store unlimited contacts, have them tagged with as many events, attributes, and (soon) tags as you'd like.
Use drag n drop editor to create templates, code your own templates in HTML or use our email template library with 60+ responsive email templates available.
Use a

Sendinblue

email marketing plan that lets you send up to 300 emails per day.
Send transactional emails and SMS from your WordPress website.
Use

Sendinblue

marketing automation to send transactional emails & SMS, create workflows, segment users, etc.
Ninja Forms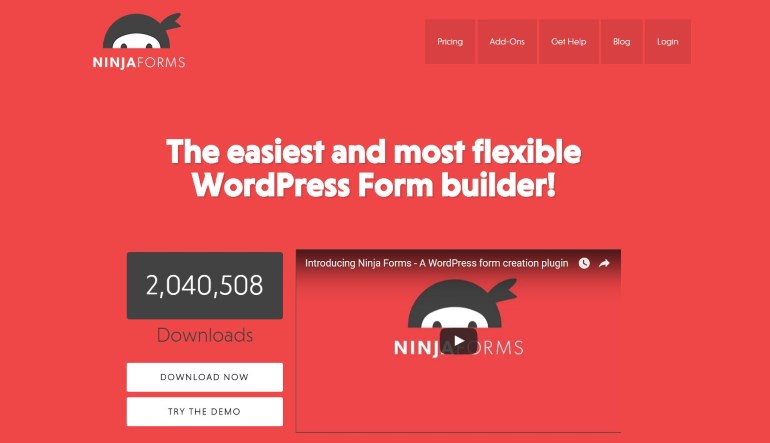 Ninja Forms is an extremely flexible form builder. Where it truly shines is its interface. The developers of this plugin have taken a minimalist approach, but yet provided us with a beautifully designed set of tools to build pretty much any kind of form we want. And the responsiveness of the interface makes it just as easy to use on mobile.
There's is a lot of settings, but each one is needed. They allow you to fine tune pretty much every aspect of your forms. Integration is super easy. You can add your form as a widget, shortcode, or append it automatically to any content you choose. And if you want to get your hands dirty in code, there are template functions available.
If the standard functionality is not enough for you, there are nearly 40 extensions available.
Pricing starts at $29.
Gravity Forms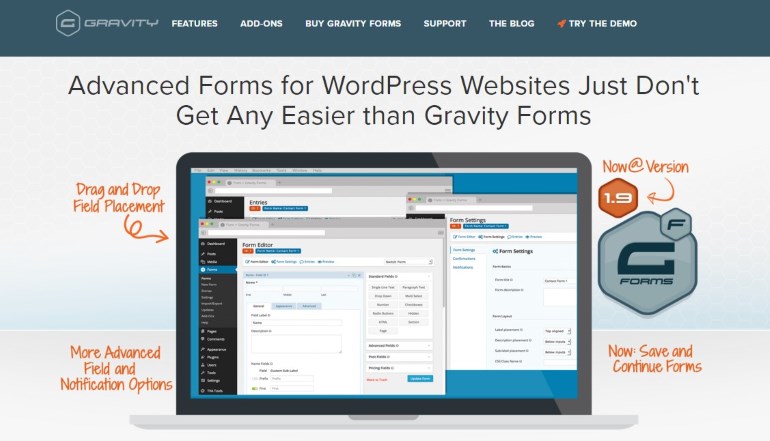 Gravity Forms is a well-known premium WordPress plugin in the forms department, so to speak. It is actually one of the original premium contact form plugins. It gives you much more than just simple contact form functionality. You can use it to create multi-page forms (great for surveys), you can limit user entries, schedule forms (so they're available only within a given time slot), and even create order forms.
It includes over thirty built-in fields. This allows you to build pretty much any type of form you need.
Conditional logic is another big feature. It allows you to set your form to show or hide fields, sections, and even buttons based on different selections made by the user. This is must have functionality when you need full control over what information your users enter in your forms.
Pricing starts at $59.
Contact Form 7

Let's get the obvious out of the way… Contact Form 7 is one of the most popular WordPress plugins of them all (not just speaking in terms of contact form plugins). Currently, it has more than a million active installs, with more than 30,000 people downloading it every day. Can they all be wrong?
Contact Form 7 has all the features you would expect in a contact form plugin. You can create and manage multiple contact forms, and it gives you the ability to customize the contents of the form with simple markup. Ajax-powered submitting, CAPTCHA, Akismet spam filtering are built in.
For me, I have to admit that Contact Form 7 delivers all the basic contact form functionality one could ask for.
Pirate Forms

Pirate Forms is a free plugin that focuses on giving you a simple contact form that just works. There's no unnecessary complicated settings or overly confusing admin panels. Just contact forms that do their job, and do it well!
Simplicity is this plugin's greatest strength. It doesn't try to do too much, and gives you only the features you need to create a usable and good looking contact form for your WordPress site. It doesn't have a ton of features, but it does include a very important one that all contact form plugins should have, and that it is CAPTCHA.
Form Craft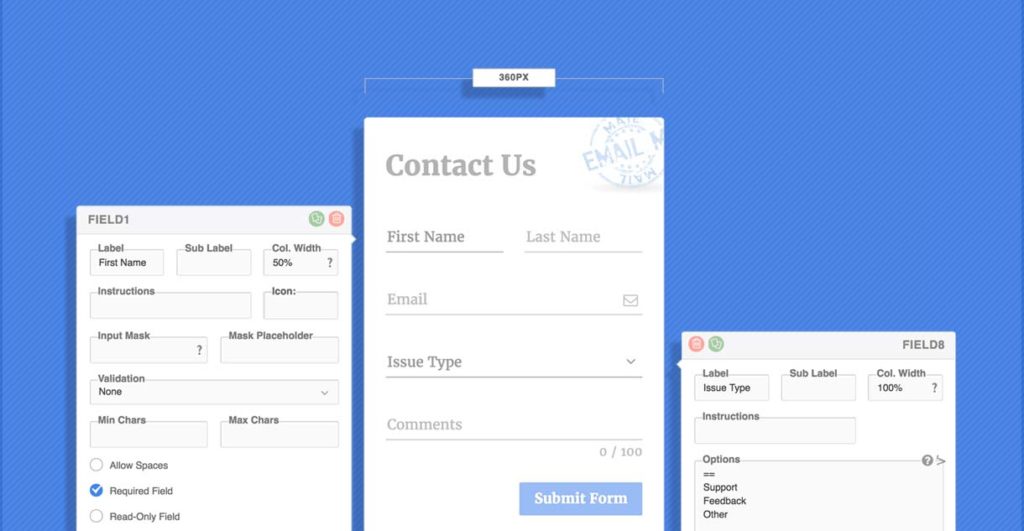 FormCraft offers a drag & drop style of editing when it comes to form building. It's interface is very simple and user friendly. All you have to do is drag the field you want onto your form.  The developers of Form craft have done a great job in creating a simple UI that can generate complex forms.
As you would expect, you can easily embed forms within the content of a page, but you can also embed them as a popup on any page or trigger a form using an existing element on a page. And there is also conditional logic. You to show and hide fields, send emails or trigger integrations, all based on user input.
There is even analytics. This allows you to view form views and submissions, check conversion rates and payment conversion rates – weekly, monthly, yearly or by custom periods.
Price: $39
Formidable Pro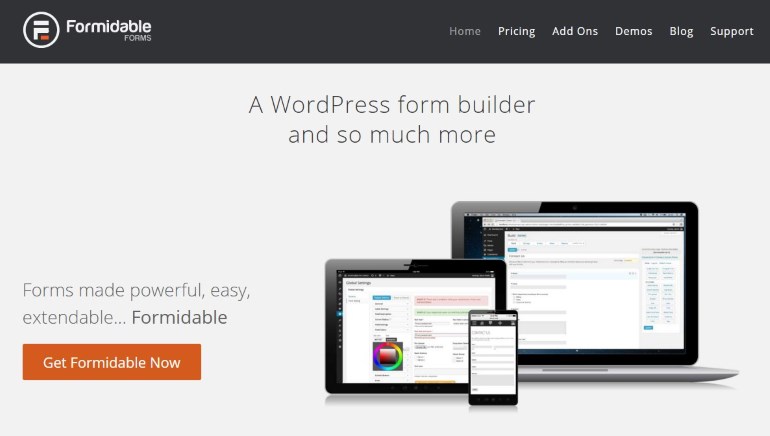 The forms generated by this plugin are really good-looking, I have to give them that. But Formidable Pro delivers a lot more than that. All forms are customizable, and you're not just limited to contact forms. Plus, there's around 20 add-ons available for various app integrations (PayPal, MailChimp, Zapier, and more).
What sets formidable apart from the other plugins is that you ca not only collect data from the forms, but it gives you the tools to display that data. Any data submitted  into a Formidable form can be displayed, searched, and filtered in a beautiful presentation on the front end of your site if you choose.
Another nice features is that you can split up long form into multi-step forms on the same page. This greatly improves the over all user experience of completing a complex form.
Pricing starts at $49.
Jetpack

Jetpack is the second major player in the free contact form plugins niche right after Contact Form 7. Actually, Jetpack can do a lot more, and the contact forms module is only a small aspect of it. Jetpack's forms are easy to use, and they can be added to any post or page through the standard WordPress editor screen.
Contact Form

Much like its name, the inner workings on this plugin focus on simplicity. All you need to do is activate the plugin, and then you can include a contact form in any post or page through a handy shortcode. No additional setup required (some options are available, though).
This is a pretty bare-bones type of plugin, but it gets the job done. And if all you need to do is add a contact form to your site, this might be worth checking out.
Custom Contact Forms

This free plugin allows you to customize your contact forms by changing the colors, borders, sizes, backgrounds, and more. At the end of the day, you can create some truly good-looking forms with it, and then manage all the submissions you get directly through WordPress.
This plugin prides itself on doing things the WordPress way, meaning that it integrates seamlessly with the WordPress admin. You would almost thing that it is part of WordPress. Forms are built in the media manager instead of going to separate interface on your site.
There are also live previews of your forms that are generated on the fly, making form creating more enjoyable. Another nice feature is that you can create posts or custom post types on form submissions. For each form, you are given a set of options for configuring the post type and status of the created post. You are also given the option to map form fields to post fields and as taxonomies.
Multi-language Responsive Contact Form

This free plugin focuses on making their contact forms simple to integrate (via a shortcode), mobile responsive, and also includes a handful of language translations out the gate. Plus, you can add other languages based on your requirements.
Get Multi-language Responsive Contact Form
Conclusion
That's our list of the top contact form plugins for WordPress! However, we're also aware that there's a lot more available out there. In fact, there are probably so many Contact Forms available, that it can be overwhelming. We wrote this article in hopes of making your search for a contact form plugin a little easier. Hopefully, we've been able to point you in the right direction.
Now, it's up to you. Find the one you think will fit your needs the best, and dig a little deeper by exploring all of it's features. Then give a try and create the most awesome forms ever!