WordPress plugins for bloggers may seem like an obvious topic, but that's not always the case. The thing is that bloggers, content creators and writers can truly benefit from a set of some unique features and functionalities.
Today, we find out what those are!
Here are the top five WordPress plugins for bloggers, writers, and content creators:
1. Edit Flow

Edit Flow has been my secret weapon for probably more than two years now. Quite simply, it's the best plugin around to manage all your content writing and blogging efforts in a clear and understandable way. Here's what Edit Flow gives you:
Custom post statuses – in case the standard "draft" and "pending review" aren't enough for you (I for example, also use: edited, finalized, archived, written.)
Editorial comments – those work similarly to the standard comments in WordPress, but are visible only in the wp-admin – it's the exclusive commenting system for logged-in users, so to speak.
Editorial metadata – additional data fields that you can assign to blog posts; very useful if you need to use non-standard parameters that go above categories and tags.
Why/when use it?
Use Edit Flow if you like to work on multiple pieces of content at the same time, and preferably on a multi-user blog. However, single-user blogs can also benefit from better content production workflow that this plugin gives you.
2. Editorial Calendar

If you have a tendency to miss a publishing deadline here and there, then this plugin can really help you out. The main benefit is that it shows you your publication dates in calendar view, which is much easier to grasp for the human brain than a standard list.
Editorial Calendar also gives you drag-and-drop functionality for managing your calendar and scheduling posts for future dates, making it also one of the easiest to use WordPress plugins for bloggers.
Why/when use it?
Get Editorial Calendar if you publish a lot of content and regularly. If you're above three posts a week, this plugin is going to be a lot of help.
3. Jetpack Spelling and Grammar

Jetpack is a very well known plugin, but what I want to show you today is its slightly lesser known module. The module's called "Spelling and Grammar" and you can enable it by going to your wp-admin / Jetpack / Settings: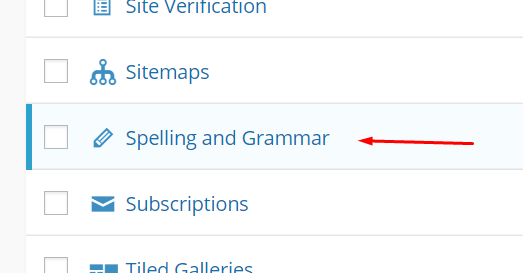 Next, by going to your profile (wp-admin / Users / Your Profile), you can adjust the kind of checks that Jetpack is going to perform on your content. After all that, you're going to see a new spell-check icon in your WordPress editor:

This is basically a spell checker on steroids. Apart from the standard typos, it can also help you avoid things like bias language, cliches, hidden verbs, redundant phrases, and much more.
Why/when use it?
Two scenarios:
If you already use Jetpack, then simply enable the "Spelling and Grammar" module right away. There's no downside to having it on.
If you don't use Jetpack yet then consider getting it if good grammar isn't one of your superpowers.
4. Easy Footnotes

Footnotes might not be the most trendy thing these days. Many people see them only as relics of the traditional publishing world. But as it turns out, they can still be really useful in blogging if used right.
For example, somewhat of a standard these days is to link to whatever resource you're referring to right away – in the same sentence. While this makes it easy for the reader to access the resource, it also has a negative impact on the readability of your post. This is because links like that take the reader out of the text and encourages them to click away to another site.
A much better idea is to simply display a footnote. If the reader is interested enough, they can click the footnote and eventually follow to the original source. If not, they're not distracted by anything.
Why/when use it?
Get Easy Footnotes if you want to list your sources more effectively (from a blogger's point of view), and to improve the overall readability of your content.
5. Simple Author Box

For most bloggers, their blog is a business or branding tool of some kind. In other words, we blog because we want people to recognize us and associate our name with the content we're writing. This, however, is difficult to achieve if your name can't be found directly below your posts.
The Simple Author Box plugin helps you with that. It takes your Gravatar, name, social media links, plus whatever description you have set, and displays it all automatically below your posts. These author boxes look good on mobile too.
Why/when use it?
Use Simple Author Box to include a nice bio box below your posts. Especially useful on multi-author blogs.
I strongly believe that just these five WordPress plugins for bloggers can improve your writing and publishing workflows quite noticeably. But what else is there? Do you use any other interesting plugin for bloggers that you'd like to mention?