Drag-and-drop content builder plugins have gotten really popular lately, and they seem like a nice alternative if you're not a designer, yet you still want to be able to customize parts of your site's graphical appearance.
Quite frankly, something like that was not available even a couple of years ago. Or, maybe it was, but it certainly wasn't popularized enough for anyone to care.
But, let's stop here and answer the main question first:
What are drag-and-drop content builder plugins and why use them?
In short, drag-and-drop content builder plugins come into play as a handy tool to extend WordPress' built-in content editing features.
Let's face it, WordPress on its own doesn't give you all that much in the content creation department. All you basically get is the default post editing screen, where you can't do much beyond aligning text to the left or right, plus including some images here and there.
Drag-and-drop content builder plugins offer a lot more. Most importantly, you can build your content similarly to how you'd do it in an app like MS Word or similar. Just create some content (text, images, etc.) and then drag-and-drop it exactly where you need it.
Plus, you also get to create custom layouts via columns, tabs, and other elements.
In the end, building your content pages with drag-and-drop plugins is much easier than doing so via raw HTML code. And the best thing is that those plugins work with all existing WordPress themes.
Okay, let's get to the list:
1. SiteOrigin Page Builder

SiteOrigin Page Builder is one of the best free drag-and-drop content builder plugins available out there.
Its main advantage is that it doesn't restrict any features, and it also has a lively community of developers around it. As a result, there's a number of third-party plugins that work with SiteOrigin and provide additional content blocks.
The only downside is that this plugin is used mostly in the back-end of your site – on the post editing screen in the wp-admin, so you can't see the exact appearance of the content you're creating in real time.
Use it if you need something free, reliable, and with a lot of content blocks to choose from.
2. Beaver Builder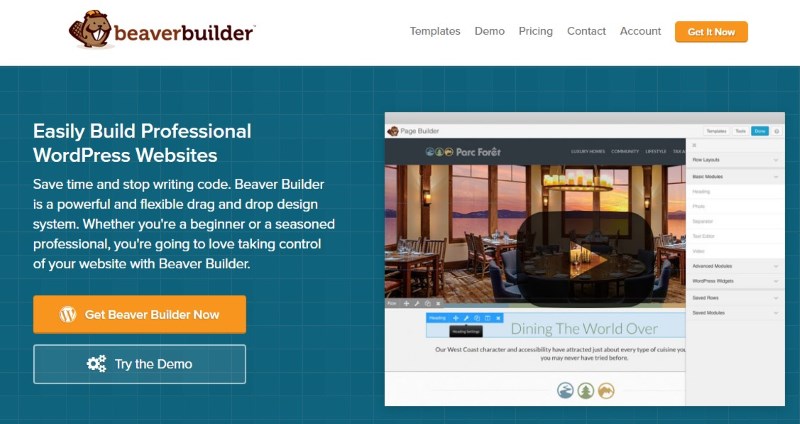 Beaver Builder is one of the most effective freemium solutions on the market of drag-and-drop content builder plugins.
First, you get the lite version to test the whole Beaver Builder concept and see if it's the solution for you, and then you can decide to upgrade to the premium version if you want to. However, that's not required at all. You can very well stick to the lite version most of the cases.
Beaver Builder is one of the few solutions out there that give you a full front-end editing interface. This means that you can work on the live version of your site and see your changes in real time. In other words, the changes you're making is exactly what your visitors see.
Then, there's also the Beaver Builder theme, in case you want to experience the full power of the Beaver Builder package.
Use it if you prefer to edit your content on the front end, instead of the wp-admin.
3. Live Composer

Live Composer is another free alternative on this list, and a great one at that.
Its main selling point is that it's completely front-end based. It's been optimized to give you a real-time view of the changes you're making. And of course, everything works with drag-and-drop, and there are lots of content blocks to choose from.
Use it if you need a free front-end drag-and-drop content builder.
4. KingComposer
KingComposer is a new player in this game, but a really impressive one. There are both free and paid versions available.
KingComposer offers really effective front-end editing, and some nice content blocks for you to use. And if you really want to go in-depth, there's the CSS inspector – allowing you to fine-tune the specifics of individual content blocks. Everything quite easy to use and very intuitive.
The premium version offers additional support, updates, and white labeling features.
Use it if you need a solution that's easy to grasp, and if you don't like any of the previous entries on this list.
What do you think, have you experimented with any drag-and-drop content builder plugins?